2016
QIANGSHENG e rickshaw
old model and new model with cheap
price list ke ke in indi market
product information
QSB electric triycle is popular in Asia market ,high quality and beautiful design win the customer's favorite , Alloy wheel is very stronger ,long service life. Galvaized Bumper for eletric tricyle include front bumper ad rear bumper .Effectiely avoid body damage.soft cushion is very comfortable.the curtain of rain of electric tricycle for Asia provide the passenger from sunshine ad rain. it's the best choise for the passenger in Asia.
2016 
QIANGSHENG e rickshaw
old model and new model with cheap price list ke ke in indi market
Color Option
Popularity
Electric rickshaws are most popular in  Asia . The low cost chinese version being the first to show up on streets .They are mostly used in china ,India ,Bangladesh and Nepal ,also in low numbers other parts of Asia they have been showing up .China ,Japan,India and European countries (Switzerland,France,Germany) have researched and developed electric tricycles for commercial transport and are attemping to capture the growing market in Asia .Government has made effort  though to run them and made plans to issue licences on a fee of 1.5tk but there has been no action on this matter to date.
2016 
QIANGSHENG e rickshaw
old model and new model with cheap price list ke ke in indi market
Related Product
Certifications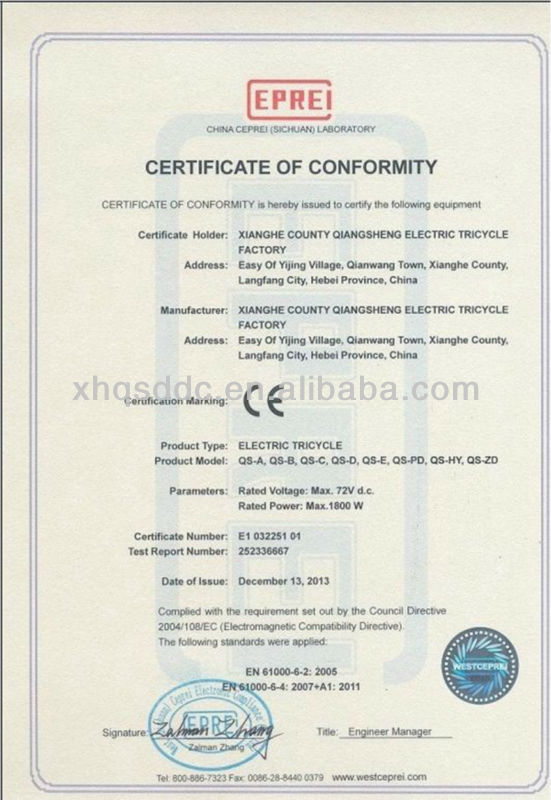 2016 QIANGSHENG e rickshaw  old model and new model with cheap price list ke ke in indi market